Buy Now & Pay Later with Easy Monthly Installments at Subhan Electronics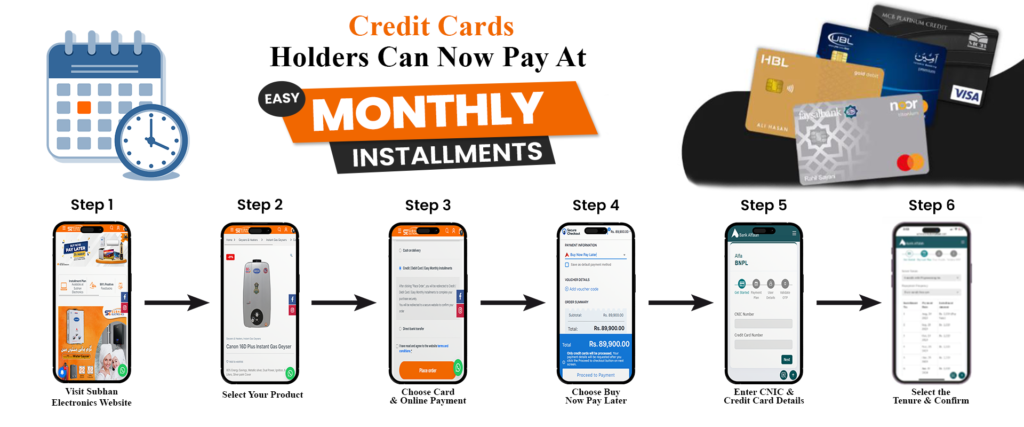 In today's environment EMIs (Easy Monthly Installments) / BNPL (Buy now Pay later) are in inevitable and now www.subhanelectronics.pk offers its esteemed customers with different Easy Monthly Installments facilities on our website with an easy interest-free 0 markup payment plan to enable its customers to access and purchase the items they desire while managing their finances during the turbulent economy. With multiple payment tenures and easy interest-free installments it intends to help people spend responsibly without incurring interest or extended debt.
Now multiple Easy Monthly Installment plan (EMI) are available for credit card holders. EMI plans applies for all products with a minimum value of Rs. 3,000 or above.
How to buy electronics on installments from subhanelectronics.pk?
To buy from subhanelectronics.pk on (EMI) installment, first choose your product and add it to your cart.

The cart should contain a product of worth at least Rs. 3,000/-.

Click Buy It Now, Proceed to Payment, and then choose Card & Online Payments as your payment method.

Click pay now and then choose Buy Now Pay Later as your payment method & proceed to payment.

You will be redirected to Buy Now Pay Later page. Enters CNIC and Credit Card Details.

Select the tenure for the Buy Now Pay Later booking and confirm.

Provide user details address, income, Father/mother name, card issuance date etc.

A code will be sent to your registered phone number and email address. Enter the code and place your order.

Once your EMI plan has processed, you will receive a SMS from your bank.

Upon successful transaction, Subhan Electronics Representative will call you, will inquire about order and upon confirmation, your product will be dispatched to your door step.
Easy Monthly Installments Terms and Conditions
Following are the Terms & Conditions applicable on EMI plan and are to be read along with the Credit Card terms and conditions:
Minimum purchase amount for each transaction should include only one product and be of value PKR 3,000 to book an Easy Monthly Instalment.

Only customers opting for EMI on Subhan Eectronics checkout page are eligible for this promotion.

One Time Processing Fees: Flat 11.64.0% of the transaction amount will be charged by the bank as per their Schedule of Charges (SOC).

BNPL orders do not proceed if the total amount to be paid exceeds your card limit. The total amount includes (product price + service charges).
EMI                                                 Processing Charges
          4 Months                                         10%
          6 Months                                         10%
         10 Months                                        10%
Purchase on subhanelectronics.pk is to be made at least 3 working days before the next credit card statement is generated to ensure the transaction reflects in that statement. For example, your statement date is March 24, 2023, then the purchase should be made before March 21, 2023
If you make a purchase immediately after the statement date then the transaction will reflect in the next month's statement.
The Bank providing EMI service is acting as corporate agent/distributor of third-party products/services and shall not be responsible in any manner to any person or to any claim

.

Subhan Electronics has the right to cancel this promotion at any time without any intimation.